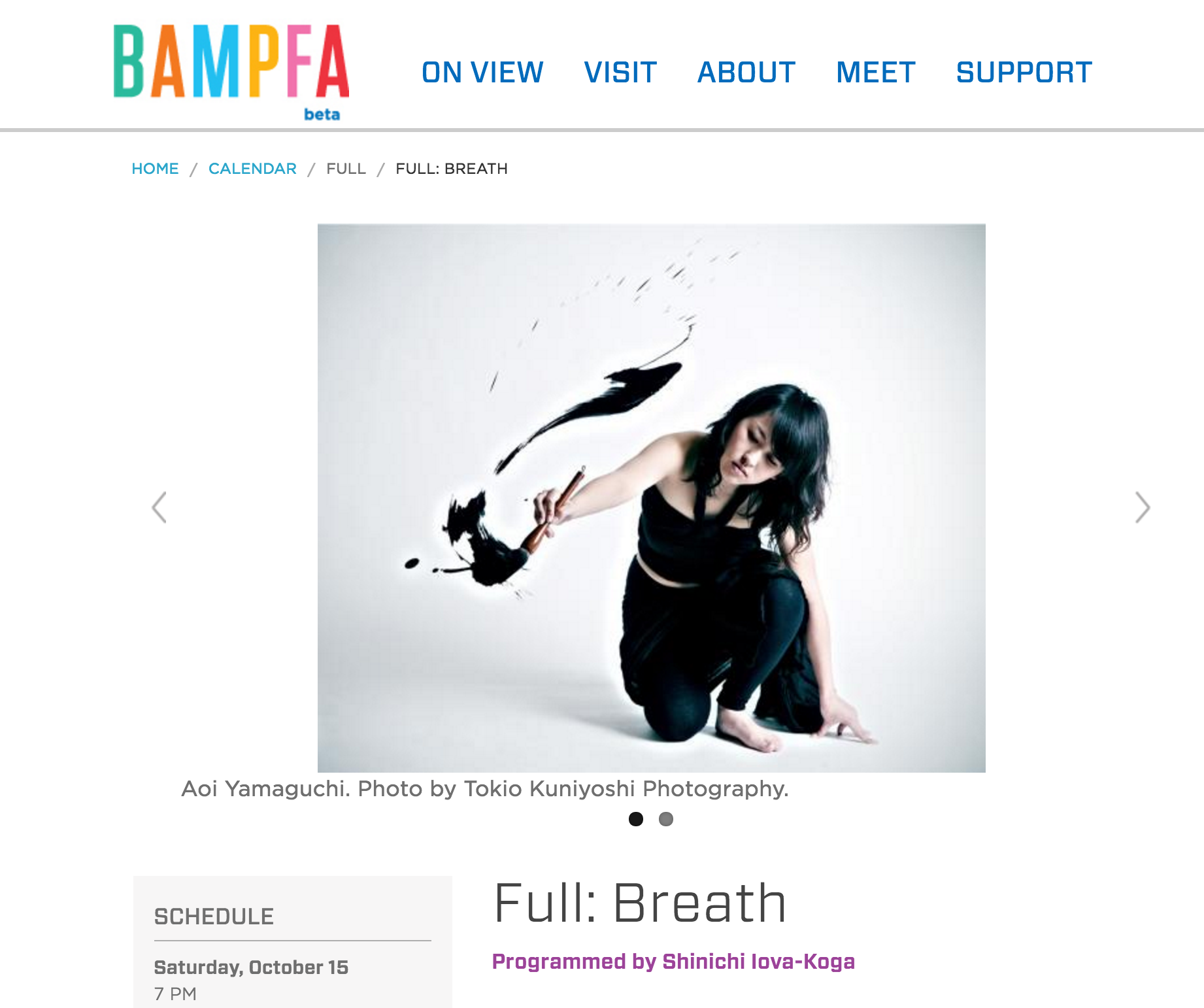 I'm excited to announce my upcoming large-scale live calligraphy performance at Berkeley Art Museum Pacific Film Archive on Oct 15th, themed in "Breath". FULL is a series of varied performances at BAMPFA celebrating every full moon cycle. Curated by Shinichi lova-Koga, various artists performing contemplating the theme "breath" in celebration of full moon.
This performance is designed site-specific to the newly renovated, stunning structure of the atrium in the museum. I'd like to present a multi-layered large-scale Japanese calligraphy performance, accompanied by sublime sounds composed by a Tokyo-based sound artist Corey Fuller (ILLUHA/ 12K). This 23-minutes sound journey is Fuller's artistic interpretation of my calligraphic movements, resonance of shadows; and this will be the first time presenting to the public.
Supported by numbers of talented spirits, featuring assistant performers Yang Yang, Yawen Zou, Ziyu Zhou, and Chelsea Ortiz; ink vase installation in collaboration with Studio Sen; team Awakening Moon: Aprille Tang, Zon Chu, Andrej Hronco and Yukina Yamamoto. Hair & make in collaboration with Aki Masuoka, Yui Yamaguchi. 
Full: Breath
Programmed by Shinichi Iova-Koga
An evening of varied performances celebrating and contemplating breath. You will experience the unique sounds of shakuhachivirtuoso Masayuki Koga, the live calligraphy painting of Aoi Yamaguchi, the solo dance artistry of Dana Iova-Koga, and haunting music from Oakland-based duo Ghost Lore. Plus explore the exhibition galleries and discover simultaneous performances throughout the building.
Guest programmer Shinichi Iova-Koga teaches dance composition at Mills College and is the artistic director of the San Francisco-based performance company inkBoat.
Saturday, October 15. 2016 | 7 PM
BAMPFA (Berkeley Art Museum Pacific Film Archive)
Included with admission