Interactive Japanese Calligraphy & Sound Performance at TYPO BERLIN 2017
LINLOW: TOWARDS TRANSCENDENCE
芸術家は無数の琳琅(りんろう)を見、無上の宝璐 (ほうろ) を知る
Artists see the countless beautiful poems in our ordinary lives and know the greatest treasures.


− 夏目漱石
Soseki Natume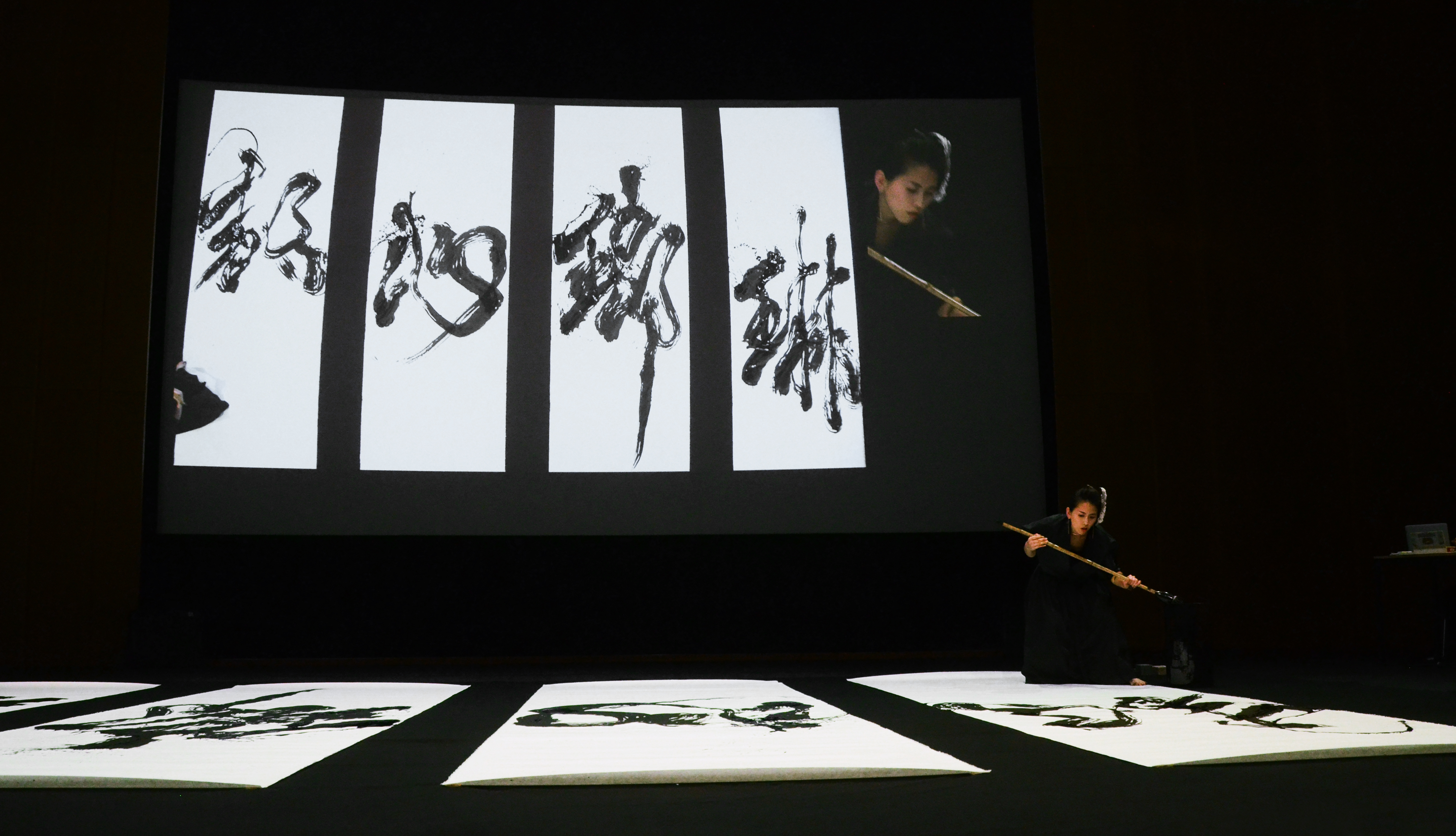 ABOUT ARTISTS
Schneider TM is a multidimensional music project of Dirk Dresselhaus, named after his nickname Schneider. Since the late 80's, Dirk has been active in different musical fields. From 1989 until 1997 he played and sang in adventurous rock and pop bands like Hip Young Things and Locust Fudge (both on Glitterhouse Records) before he became more active in electronic music around 1996. Schneider TM is responsible for a couple of experimental electro-freak-pop albums (on City Slang / Mute) including underground-hits like 'Reality Check', 'Frogtoise' and a cover version of a song by The Smiths called 'The Light 3000', a collaboration with Kptmichigan that was hugely acclaimed by the alternative media like John Peel, The Wire etc..
Schneider TM has been credited as one of the main inventors of a music genre called Indietronic or Indietronica.
Since 1997 Schneider TM performed a couple of hundreds live concerts around the globe including renowned international festivals like CTM (Berlin), Sonar Festival / Sonar Sound (Barcelona, Rome, Tokyo), Mutek (Montreal, Mexico City), Arty Farty (Lyon), Pukkelpop (Hasselt), Hultsfred Festival (Hultsfred), Kilbi Festival (Bad Bonn), Frieze Art Fair / Frieze Music (London), Phonem Festival (Istanbul), Numero Festival (Lisboa), Les Siestes électroniques festival (Toulouse), Melt Festival (Gräfenhainichen), Midi Festival (Hyéres), Motomix Festival (Sao Paolo), Todaysart Festival (Den Haag), Dark Mofo (Hobart) and others.
As well as work on a variety of one-off projects – including the production of film music for movies (66/67, In Der Überzahl, Teilhard, Remainder, Continuity etc. with directors like Omer Fast, Ludwig & Glaser etc.), performance theater (The Scorpionfish, Louis & Bebe w/ Joanna Dudley & Rufus Didwiszus) or radio plays (Release, Hochhaus w/ Paul Plamper) – Dirk has been performing & recording with noise & drone outfits like Angel (w/ Ilpo Väisänen of Pan sonic & guests like Hildur Gudnadottir, Oren Ambarchi, BJ Nilsen or Lucio Capece), released by Editions Mego and Real Time (w/ Reinhold Friedl of zeitkratzer, 3 CD box on Blume) on a regular basis since 1999.
For a while now, Dirk has also been moving Schneider TM in the direction of instantly composed freeform music, employing varying instruments including guitar, electronics, balafon, effect loops as well as field recordings. Sometimes he works solo and at other times together with artists like Jochen Arbeit (of Einstürzende Neubauten, Automat), Damo Suzuki (ex-Can), video artists like Lillevan, pani K and Takehito Koganezawa or Japanese dancer Tomoko Nakasato. The first results of this open & soundscape-y direction was the Schneider TM albums 'Construction Sounds'. Based on field recordings of Berlin construction sites combined with electronics, it was released in September 2012 on Bureau B & MirrorWorldMusic, an online-platform / label started in 2007 by Dirk Dresselhaus and Michael Beckett (aka Kptmichigan) to present past, present & future of their works.
Mika Satomi is a designer and an artist exploring the field of eTextiles, Interaction Design and Physical Computing in her artistic practices. She has recently completed her guest professorship at the Weissensee Art Academy Berlin. She has worked as a researcher at the Swedish School of Textiles and at the Distance Lab, Scotland. She holds BA in graphic design from Tokyo Zokei University, and MA in media creation from IAMAS, Japan. Since 2006 Mika has collaborated with Hannah Perner-Wilson, forming the collective KOBAKANT creating artistic projects in the field of eTextiles and Wearable Technology Art. She is currently based in Berlin Germany.
http://www.kobakant.at/
Aoi Yamaguchi performs a conceptual and interactive large-scale live calligraphy in collaboration with Berlin-based musician Schneider TM and e-Textile artist Mika Satomi, inspired by the TYPO Berlin 2017's theme "Wanderlust". The performance invites you to experience the art of Japanese calligraphy and to explore the connection between the body and the mind as Yamaguchi creates the physical representation of an idea with her brush, stroke by stroke. During the performance, the calligrapher's movement is captured by sensors and translated into a signal that controls part of the instruments. Each motion of her brush is enhanced by sensors that augment Schneider TM's composition adding a unique and powerful modulation and pulsation that entices the audience become part of the piece.
「琳瑯」 (Linlow) is an old Japanese word, meaning: 1. Beautiful gem stones, beautiful poems, poetry 2. The beautiful sound made by beautiful gem stones touching each other. 「琳瑯」is cited from a quote from Kusamakura written by Soseki Natsume, (夏目漱石) one of my favorite Japanese novelist - 「芸術家は無数の琳琅を見、無上の宝璐 (ほうろ) を知る」"Artists sees the countless beautiful poems (literatures / compositions) and knows the greatest treasure". E-textile & Costume by Mika Satomi. Music by Schneider TM. Assistants: Zon Chu, Katrin Kleeman, Pia Esodoppella, Christine Ha. Photos by Norman Posselt / Monotype, Gerhard-Kassner / Monotype, Sunjin Kim. Embroidery flower headddress by Emi Takazawa. Special thanks and big hugs to Franziska Parschau.