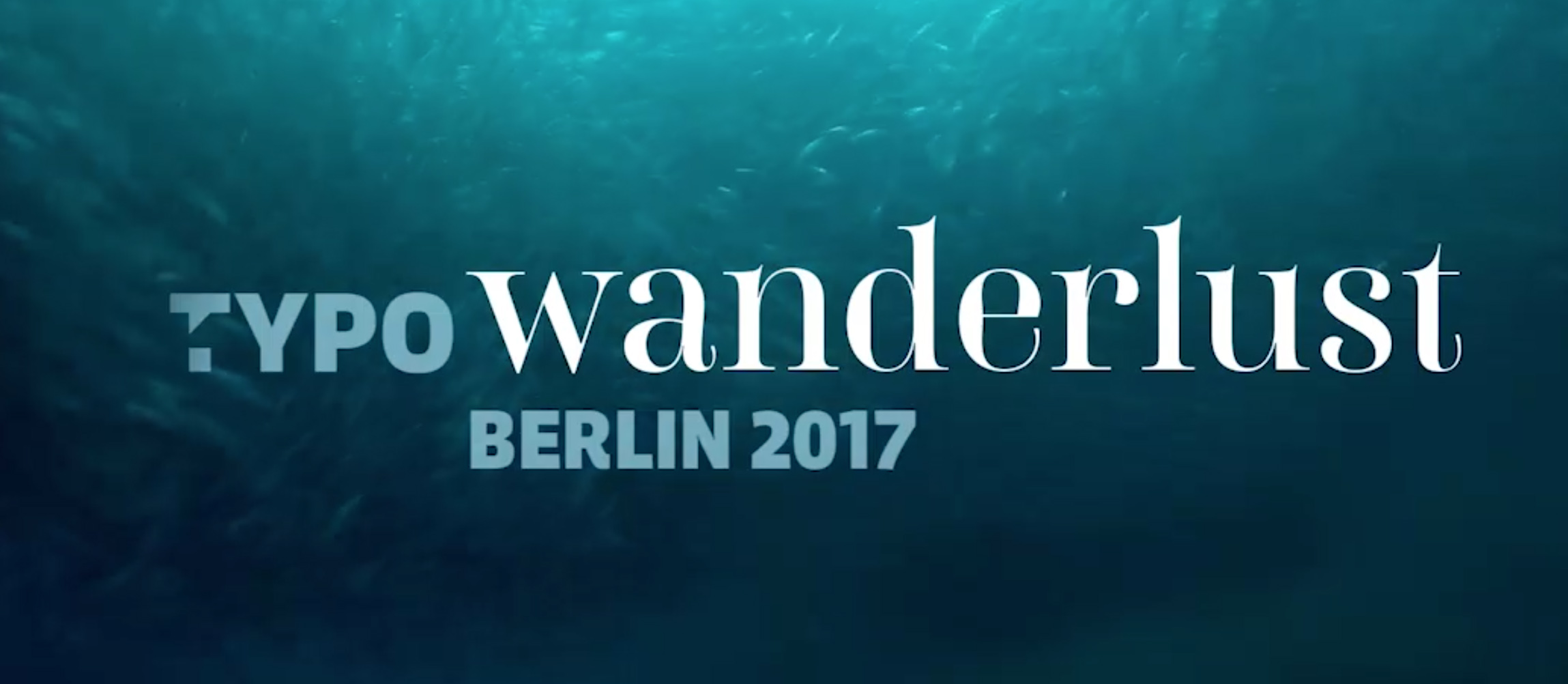 I'm excited to announce that I was invited as one of the guest speakers at TYPO Berlin 2017. TYPO Berlin is one of the most important creative conferences in the world, with around 1,500 participants, more than 60 speakers from all around the world giving lectures, workshops and panels on up to 5 stages, for 3 days at the most beautiful venue in Berlin, HKW – Haus of World Cultures. With the theme "wanderlust", TYPO Berlin 2017 takes place from May 25th – 27th. I will be giving a talk, presenting a live performance and teaching two workshops during the conference.


Talk
Thursday, 25 May 2017, 18:00 | place: Hall

Sho Ha Hito Nari: Brushes, strokes and a reflection of self
In Japanese culture, the art of calligraphy is not only the expertly painted characters; it is the spiritual journey of the calligrapher to infuse herself in the work and see herself reflected back.  Using her works to illustrate this concept, Aoi Yamaguchi will explore this duality between the visual representation of her art and the constant search for self through the brush strokes.

Performance
Thursday, 25 May 2017, 21:00 | place: Hall
LINLOW: Towards Transcendence
Interactive Calligraphy & Sound Performance 
with Schneider TM & Mika Satomi
Aoi Yamaguchi performs a conceptual and interactive large-scale live calligraphy in collaboration with Berlin-based musician Schneider TM and e-textile artist Mika Satomi, inspired by the TYPO Berlin 2017's theme "Wanderlust".
Calligraphy is a unique art form; it deconstructs and transforms existing linguistic conventions through the calligrapher's brush. The calligrapher infuses the character with her interpretation of the idea which makes each performance unique. The performance invites you to experience the art of Japanese calligraphy and to explore the connection between the body and the mind as Yamaguchi creates the physical representation of an idea with her brush, stroke by stroke.
During the performance, the calligrapher's movement is captured by sensors and translated into a signal that controls part of the instruments. Each motion of her brush is enhanced by sensors that augment Schneider TM's composition adding a unique and powerful modulation and pulsation that entices the audience become part of the piece.

** 琳瑯 (Linlow) is an old Japanese word, meaning:
Beautiful gem stones, beautiful poems, poetry

The beautiful sound made by beautiful gemstones touching each other.
琳瑯 is cited from one of my favorite authors Soseki Natsume, as he's written in his book Kusamakura, in quote:「芸術家は無数の琳琅を見、無上の宝璐 (ほうろ) を知る」"Artists sees the countless beautiful poems (literatures / compositions) and knows the greatest treasure".

Workshops
Friday, 26 May 2017, 15:00 – 17:00 | place: Foyer

Saturday, 27 May 2017, 15:00 – 17:00 | place: Foyer
TYPO BERLIN 2017 OFFICIAL SITE VIEW SCHEDULEVIEW SPEAKERS
Looking forward to seeing you all in Berlin!